Tokyo 2020: Mirabai Chanu said, stayed with mother for only 5 days in 5 years, Rio's failure earned medal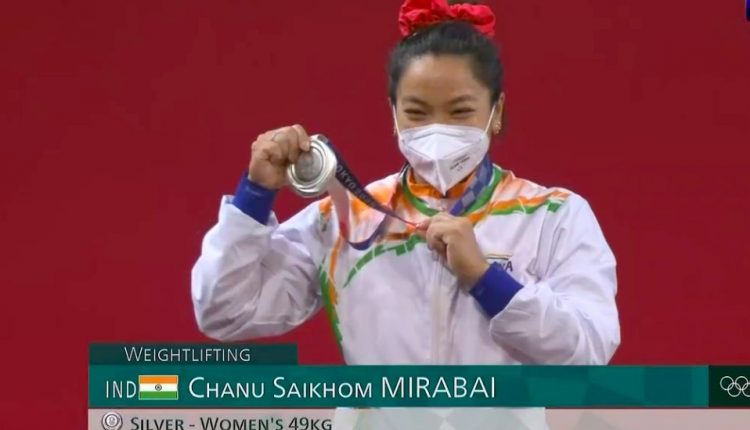 Tokyo,24/7 (AO Bureau): Mirabai Chanu, who won India's first medal in the Tokyo Olympics, cited the failure of the Rio Olympics as the biggest reason for her victory. Chanu, who won the silver medal in Tokyo, performed very poorly in the last Olympics. After winning the medal in Tokyo, Chanu said that it was the failure in Rio that inspired him to work hard, the result of which is in front of everyone. Chanu also told that she is out of the house for the last five years and she has been with her family only for 5 days. But now after winning the silver medal in Tokyo, she wants to eat rice from her mother's hand.
After winning the medal (Mirabai Chanu wins silver medal) on Saturday, Mirabai Chanu while talking to reporters said, 'I have gone home only five days in five years. Now I will take this medal to my mother and eat food from her hands. My mother had taken a fast and said that she would be hungry till I won the medal. I talked to my mother for two minutes after winning and she told that everyone in my village is very happy.
Changed training after the failure of Rio Olympics
Mirabai Chanu told that she changed her training after the failure of Rio Olympics. He said, 'My dream of winning a medal in the Olympics has come true. I had prepared a lot for the Rio Olympics but the dream was shattered there. Learned a lot from that failure. I changed my training and learned from that defeat. What didn't happen in Rio happened in Tokyo. I have got the fruits of hard work.
My win will bring many girls to weightlifting sport: Chanu
Mirabai Chanu expressed confidence that winning a medal in Tokyo will encourage more girls to take up weightlifting. He said, 'This medal of mine will attract girls towards this sport. I want girls to take maximum part in sports. Girls can earn a name not only in studies but also in sports. Girls have a lot of power and they can make the country proud by winning medals.