Sonia Gandhi's meeting with opposition parties, big plan made for Mission 2024, SP and BSP absent from meeting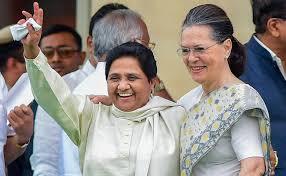 New Delhi, 20/8:Congress President Sonia Gandhi, in a digital meeting with several prominent opposition leaders of the country, on Friday expressed confidence that the unity of the opposition will remain intact even during the coming sessions of Parliament. However, at the same time he also indicated that the big political battle was to be fought outside Parliament. He meant to say the Lok Sabha elections to be held in 2024.
"The ultimate target is 2024 Lok Sabha elections for which systematic planning will have to be done. It is a challenge, but together we can do it because there is no alternative. Everyone has their own compulsions too, but the national interest demands that we all rise above our compulsions.
Leaders of more than 15 parties including Nationalist Congress Party chief Sharad Pawar, former Congress President Rahul Gandhi, West Bengal Chief Minister Mamata Banerjee, Tamil Nadu Chief Minister MK Stalin, National Conference leader Farooq Abdullah and Jharkhand Chief Minister Hemant Soren attended the meeting. were involved. The surprising thing was that no one from Samajwadi Party (SP) and Bahujan Samaj Party (BSP) participated in this meeting.
According to sources, Sonia Gandhi is trying to surround the government with opposition parties on major issues of the country and this meeting was called under this effort. The opposition parties are trying to unite at the national level to take on the Bharatiya Janata Party (BJP) and Prime Minister Narendra Modi to present a tough challenge from the opposition in the next Lok Sabha elections.