22nd Bharat Prativa Samman: Bharat Masala will reach the pinnacle of Success overcoming all obstacles:Minister Captain Dibya Shankar Mishra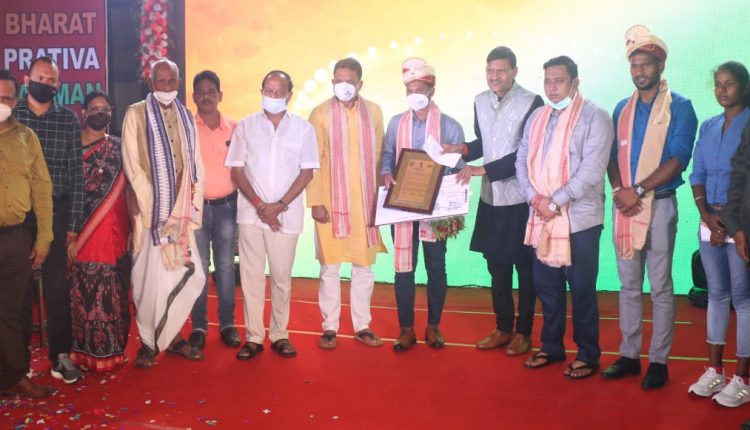 Bhubaneswar, 11/9: The people who loves the soil and the motherland has reached the pinnacle of success. The businesses that fathers, sons, grandchildren, and great-grandchildren have created together through hard work have now made a name for themselves in the world . It directly provided employment to 1,200 to 1,500 households, while 15,000 households benefited indirectly. Developed  countries like the United States are not able to employ everyone, while the Indian spice company ranks second in eastern India due to the hard work of its employees, while it ranks 13th in the Indian business sector. The company is currently ranked 4th in the country in terms of spices production. Inaugurating the Jaya Bharat Foundation and Bharat Masala, the Minister of  Energy; Industries; Micro, Small & Medium Enterprises said that the humility, determination and concentration in crossing many thorny paths would bring him to the number one spot in the world court one day. Especially with respect to women in employment, 65 per cent of women have revolutionized the industry by employing women. They have reached out to everyone because of the generosity they have given to every employee of the company as their own family.
Mr. Panda continues to strive for the self-reliance of the youth of Odisha. India is buying turmeric from women living in areas like Kandhamal, buying spices from India and making it using modern know-how and sending it to various countries and it has become quite popular in the country and abroad. So the efforts of Surendranath Panda, founder of Bharat Masala Company, and Sushant Kumar Panda, Managing Director, are commendable for taking the number one spot in the world. The company is grateful to all its employees he said. Sushant Panda, Managing Director, who presided over the function, said that in 2014, the state government had provided the company with 14 acres of land in Ramdaspur.He thanked the state government and congratulated him. The company produces 128 types of products. In the coming days, we will buy agricultural products such as tomatoes and ginger directly from farmers for agriculture and farmers' development, he said. The guest of honour was Devi Ranjan Tripathi, MLA of Banki and PK Gupta, one of the guests. Amit Rohidas  Birendra Lakra were awarded the Bharat Gaurav Award and Deepagrace  Ekka, Namita Toppo the Krida Gaurav Award. Arun Kumar Nayak read out the annual report. Namita Panda, Nandita Panda, Srimanta Kumar Panda, Digant Kumar Panda, Sumanth Kumar Panda, Prafulla Kumar Singh, Navakrishna Pradhan, among others, were present.