Bihar Assembly Byelection: Before the by-election, NDA showed solidarity, split in the Grand Alliance!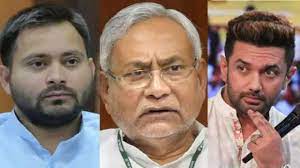 Patna, 5/10: When the results of the Bihar Assembly elections held in October-November 2020 came, many leaders of Janata Dal United (JDU) had made a big allegation about the attitude of their ally BJP, sometimes openly, sometimes in gestures. . JDU leaders said that the people of BJP had not faithfully followed the religion of the ally in the election, such statements were also raised from the top leadership of the party. Then this matter was gradually handled in some way. But now the same picture should not be seen again, in the by-election to be held on two seats, the big leaders of NDA have been divided into two parts to campaign for the election campaign.
Its hallmark was visible on Tuesday, October 5, when all the big leaders of NDA were present at the time of nomination of both the JDU candidates. In Tarapur, JDU has its national president Lalan Singh, Upendra Kushwaha, Ashok Chaudhary, Sanjay Singh, Neeraj Kumar from BJP and Samrat Chaudhary, Mangal Pandey from BJP. At the same time, leaders like Santosh Manjhi from Hindustani Awam Morcha (HUM) were present, which was enough to tell that NDA leaders are trying to give a message to the public that their alliance is completely united.