Odisha #1st Forum Launched with Pandit Hariprasad Chaurasia as Chairman
Global Industry Leader Shri Anil Agarwal, Chairman,Vedanta addresses the forum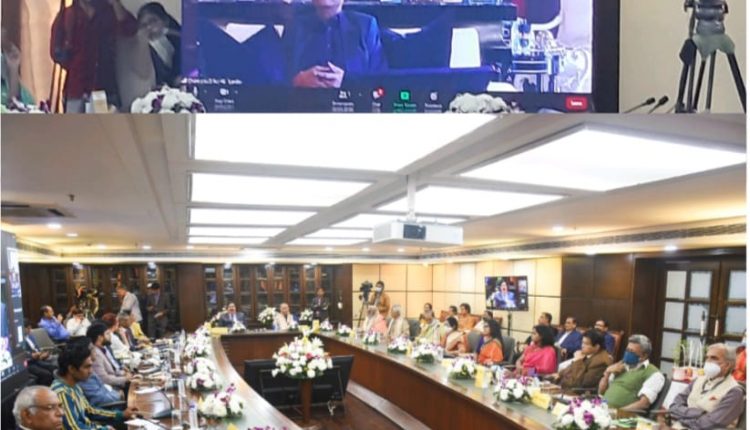 Bhubaneswar, : For the first time Eighteen Eminent Personalities of different fields starting from social work, sports, art, architecture, classical dance, music, academia,industry and technology have come together under a forum called Odisha #1st to promote Odisha in their respective domain. "Odisha has now become a land of happenings and opportunities" said Chairman of this forum Pandit Hariprasad Chaurasia, the world-renowned flautist and the recipient of Padma Vibhushan. "We thought this land has given us enough, we have been promoting this land, now we will promote it together."
The forum was hosted by Vedanta to bring together practising professionals in diverse fields as a think tank. Odisha First is a voluntary initiative of eminent personalities, and this forum welcomes support from all quarters. The members of the forum include seven Padma awardees likeHariprasad Chaurasia, Sudarshan Sahoo eminent sculpture artist, Prafulla Kar popular singer, Pratibha Ray celebrity writer, Dilip Tirkey face of Odisha hockey, Aruna Mohanty noted Odissi dance guru, Ileana Citaristi famous Odissi and Chau dancer and other eminent persons like Nandita Das celebrity actress, Pramod Bhagat Para Olympic gold medallist, Prof. Damodar Acharya technocrat of national repute and Director Central Board of Reserve Bank of India, Prof. Sudhakar Panda expert member of State Planning Board and State Farmers Commission, Prof. Jayanta Parida Director KIIT University, Dr. Ashok Mohapatra Ex Director AIMS and Vice Chancellor Shiksha O Anusandhan University, Sabyasachi Mishra Ollywood Superstar, Arati Devi noted social activist, Lt. Gen. J. K. Mohanty Chairman Bhartiya Vidya Bhaban, Odisha,spiritual personality Pujya Swami Jagadananda Sibananda, Prof. A. K. Das Ex Vice Chancellor Utkal University and Vice Chairman of State Education Council Govt. of Odisha.
Joining them through VC were Shri Anil Agarwal, Chairman, Vedanta Group and Shri Rahul Sharma, CEO – Aluminium Business, Vedanta Limited.
In its first meeting, all members of the forum requested Pandit Hariprasad Chaurasia, Padma Vibhushan awardee to be the Chairman of the forum. They also requested a well-known industryprofessional, Shri Tapan,President and Resident Director – Odisha of Vedanta Ltd to be the convenor of the forum.
The forum will function as a Think Tank to generate various ideas and action plans by practising professionals of this forum. These ideas and action plans will be presented to the government, corporate bodies and autonomous institutions for their support for implementation. The forum will periodically meet and invite top dignitaries of the country to participate in the deliberation and extend support for implementation of the action plan.
The first meeting of the forum was organised in hybrid mode at Mayfair Convention Hallson 10th December 2021. The meeting was inaugurated by one of the Top GlobalIndustry Leader Shri Anil Agarwal, Chairman, Vedanta Ltd through VC from London. Shri Agarwal while addressing the forum appreciated Hon'ble Chief Minister of Odisha Shri Naveen Patnaik for giving a stable government with high standard of governance. He also said that that more of voluntary participation of successful people in the growth and development of the state will expedite the process. He complimented the efforts of Odisha #1st Eminent Personalities meet for taking such voluntary initiative for the cause of Odisha and said Vedanta would continue to partner in the growth and development of the state. He also informed that in socio cultural, health, education and sports progress of Odisha Vedanta would also consider the initiatives as suggested by the eminent personalities of this forum for the progress of the state. He also said that he has pledged to donate 75% of his family wealth to charity. Shri Agarwal narrated his experience when he came to Odisha to set up industries in the most backward districts like Kalahandi etc at late shri Biju Patnaik's behest.
Shri. Anil Agarwal, said, " Odisha is the land of great cultural heritage and opportunities for all, be in industries, tourism, sports, arts or start-ups. All of the luminaries gathered here today symbolise the soft power of Odisha that is recognised across the world. Odisha has some unique advantages compared to all other states – strategic location, abundant natural resources, a government committed to development, and such talented people! I consider myself and our entire team at Vedanta to be an integral part of the Odia family."
In the meeting while Shri Hariprasad Chaurasia presided over, Smt Jayshree Mohanty Rotary Governor Odishaanchored it. Shri Tapan Chand, Convenor of the forum gave welcome address and Shri Rahul Sharma, CEO – Aluminium Business, Vedantamade a detailed presentation on Vedanta's work in Odisha. In his address he informed amongst other points that Vedanta is setting up a world-class Aluminium Park in Odisha for value-addition in the state.
Mr. Rahul Sharma, CEO – Aluminium Business, Vedanta Limited, said, "Believing in Odisha's potential, 20 years back, our Chairman took the landmark decision of setting up a world-class industrial ecosystem to make Odisha the 'Aluminium Capital of the World'. And today, I am proud to say that Vedanta has been a partner in Odisha's development for nearly two decades. Odisha is poised to be a trillion-dollar economy in this decade and Vedanta is a committed partner in this journey Be it education, healthcare, livelihoods or infrastructure, Vedanta has bolstered the state's efforts to bring prosperity to the remotest parts of the state."
Smt Aruna Mohanty, Padmashree awardee and Dr. (Prof.) Sudhakar Panda summarized the proceedings and extended thanks to Shri Anil Agarwal for choosing Odisha as a choice destination for investment. Such initiatives of eminent personalities working together and scouting support for the progress and development of the state have been appreciated in all quarters.