Hon'ble MoS, MoP&NG, Labour & Employment felicitated eminent citizen of Jagatsinghpur district at Paradip Refinery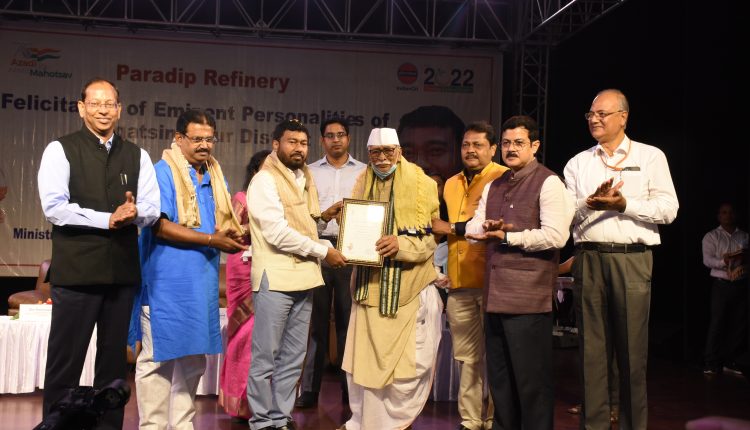 Paradip, : As a part of the celebration of Azadi ka Amrit Mahotsav, Hon'ble MoS, MoP&NG and Labour & Employment, Shri Rameswar Teli attended a program at Paradip Refinery on July 06, 2022 along with Shri Sudipta Kumar Ray, Independent Director, IndianOil. On this occasion, Shri Rameswar Teli felicitated 75 eminent personalities of Jagatsinghpur District, Odisha, for their outstanding contribution in the field of art, culture, sports, women empowerment, social service, environment etc.
Shri Rameswar Teli addressing the gathering outline about the contribution of Paradip Refinery to the service of the nation. He also elucidated the importance of ongoing projects at Paradip, such as MEG, R-LNG, Fuel Quality Upgradation PX-PTA. He welcomed the new projects, which are various stages of approval such as Needle Coker, Plastic Park, Bhadrak Textile Park & Duel-Feed Naphtha Cracker as a source of growth and employment in Odisha.  Shri Teli shared about success story of PM Ujjwala Yojona and new initiative on city gas distribution project. ​Shri Rameswar Teli flagged off Swachhta Rath and emphasized the importance of Swachh Bharat on the occasion of ongoing Swacchhta Pakhwada.
Shri Sudipta Kumar Ray, Independent Director, IndianOil said "Paradip Refinery is the Energy Gateway to Eastern India and assumes a great importance. IndianOil is not only a business house; it has got a social face which it fulfils through various CSR programs."
ED & RH, Paradip Refinery, Shri V S Jain, in his address, spoke about the significance of Azadi Ka Amrit Mahotsav. He especially emphasized the historical and cultural significance of India's freedom movement and celebration of India's journey to a prosperous future. He said that IndianOil,  Paradip Refinery is fully committed to the vision of a new India, and being the Energy Gateway to Eastern India, it will continue to empower and fuel the lives of countless Indians.