IMFA Therubali Welcomes The Chariot Of Non-Violence – 'Ahimsa Rath'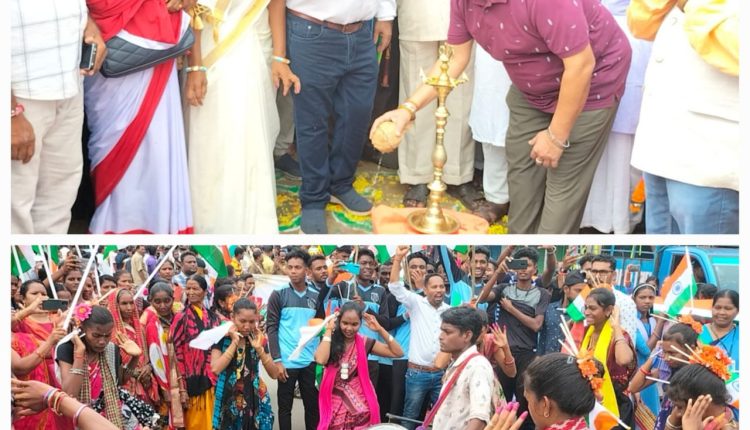 Rayagada: On the occasion of completion of 75th glorious year of Independence and as a part of celebrations of AZADI KI AMRUT MAHOTSAV, the Ahinsha Rath flagged off by Hon'ble Chief Minister of Odisha moving round the state reached Therubali on 18/09/2022 at 7.30 AM. It has been accorded a grand welcome by the people of Therubali, School Students and Teachers, Anagwadi Workers, Helper and SHG members, PRI members, IMFA officials and employees, various unions like Odisha Drivers union, Sankirtan Mandalis, Musical Troops, Dance Groups from the D.P. Camp bridge to Reception ground.

The Ahinshsa Rath was garlanded by PRI members lead by Sarpanch Therubali and the procession with thousands of people carrying Tri-color at the drum bit of the students, Sankirtan, folk dance reached the D.P. Camp Junction welcomed by the Member of Laxminarayan Market committee headed by Sri.Anup Kumar Biswas.

The Ahinsha rath carcade was received by Sri. Bhimasen Sabara, the Sub-Collector, Rayagada and Sri. Ashish Kumar Ray, Vice-President of IMFA along with Sr.Citizens, Prominent Persons and Ex-Military persons in a Traditional Manner. The Sub-Collector and the Vice-President of IMFA lit the lamp and garlanded the Ahinsha Rath.

School Students and the dance troupes performed their cultural programmes witnessed by hundreds of thousands people. Documentary on Sahid Laxman Nayak was screened by Ahinsha Rath.
The entire programme was designed by the Sub-Collector; Supported by IMFA Finally the Ahinsha Rath was bid Farewell to Kumradhamuni.
The Programme was coordinated by Sri. Shakti Prasad Pangrahi, Sr.Manger (PR) IMFA & Sri Radhasyam Panda, Director, PALLI VIKASH-CHILDLINE and anchored by Sri.Sarat Padhi.