JSW INTEGRATED GREEN FIELD PROJECT GATHERS MOEMNTUM
41 youth from plant site receive appointment letters on a single day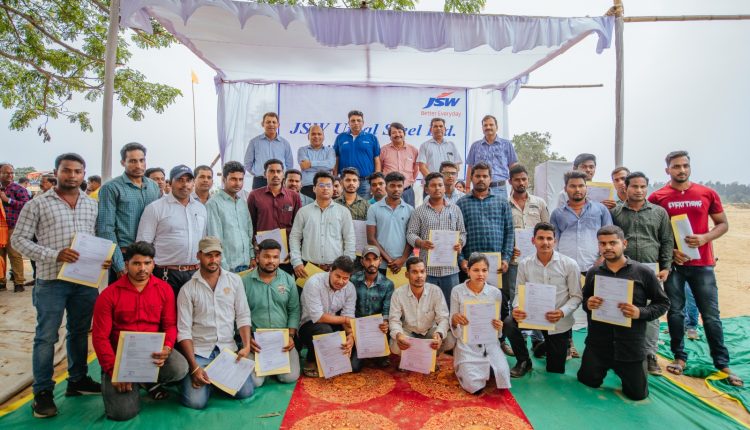 Paradip: The ground-breaking ceremony of pellet plant for JSW Utkal Steel
(JUSL) Greenfield Project coming up at Nuagaon, Dhinkia and Gadakujung
panchayats under the Ersama blocks of Jagatsinghpur District was held today in
the presence of the public representatives of the three panchayats. Sarpanch
Sri Kishore Parida and Smt. Suchitra Mantri expressed their happiness over the
course of events leading to the establishment of the plant for the betterment
of the local communities. The test piling work would commence soon.
Concurrently, 41 youth from the plant site were offered employment letters
for jobs at BPSL (a subsidiary of JSW). In a significant development, the
President and whole time Director of JSW subsidiary BPSL, Mr. Anil Singh has
been recently appointed as the new project head of the upcoming Greenfield
Steel Plant. Sources expressed that as there is a single management between
BPSL & JUSL, new joinees would experience ease of navigation and once the
Paradip plant operations commence, the youth from the plant site will be
inducted into the JUSL fold.
Remarkable progress has been made in the Jagatsingpur district in terms of
employment and skill development with the combined efforts, hard work and
dedication of the project officials, administrative authorities and the locals
towards building a better future.
An alternative livelihoods program for the economically vulnerable population
at the site has been implemented in Dhinkia, Mahala, Gobindpur, Patana,
Nuagan, Gadakujang, Nolia Sahi, Polang, and Bhuyanpal villages in the plant
site. Between Dec 2022 to March 2023, the program provided alternative
livelihood opportunities to 456 individuals across the GPs in form of poultry,
goatery, dairy and mushroom cultivation. Overall, the program is expected to
benefit a total of 2041 individuals across the landlosing villages by FY 2024-25.
This would promote sustainable livelihood opportunities and ensuring inclusive
growth in the region.
Besides, skill Development initiatives are being implemented in Dhinkia,
Nuagan, and Gadakujang GP. This year a total of 151 youth have been trained.
By the end of FY 2024-25 a total of 440 youth would be skilled in diverse
domains for whom employment would be ensured. This indicates a positive
step towards increasing the skill set and employability of the people residing in
these Gram Panchayats.
Steps are also being taken the locals in various construction works and register
them as vendors for steel plant construction and allied jobs, which would help
them become self-reliant in the upcoming days. The event was attended by
senior officials of the company.