Tapovan accident of Uttarakhand completed one week, 4 more bodies recovered from tunnel, death toll reached 42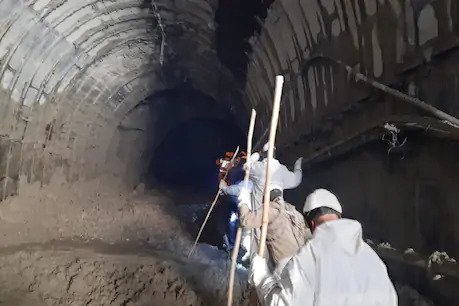 Tapovan, 14/2: Today is the 8th day of rescue work in Tapovan, Uttarakhand. From February 7, 4 more bodies have been found from the place on which the rescue operation is going on Tapovan. The bodies of the Uttarakhand Police, SDRF, and NDRF have taken out the body. State DGP Ashok Kumar has given information about this by tweeting. In Uttarakhand, the bodies of 42 people have been recovered so far.
164 people still missing
Due to the ice storm in the sage Ganga of Uttarakhand and the increase in the water level, there has been a huge loss of life and property. After the tragedy, the administration is still looking for 164 missing people. 360 families from 13 villages in the border area have been affected due to the breakdown of road connectivity in the disaster. In these villages cut off from road connectivity, daily salmon including the ration kit, the medical team are being sent continuously.
Water has started coming out of a floating lake on the Rishiganga River. Now the risk of another flood in this area has reduced. On Saturday, rescue teams started widening the hole made in the tunnel to reach the possible place of people trapped inside the silted tunnel of NTPC's Tapovan-Vishnugad hydropower project in Uttarakhand. More than 30 people are feared to be stranded after the flash floods last Sunday.
The Central Water Commission (CWC) is studying this artificial lake in the upper region of Rishiganga after the disaster caused by the glacier breaking in Uttarakhand. It is investigating the possibility of the controlled explosion to get water out of it. Financial assistance of Rs 4 lakh each has also been provided to the families of five people belonging to Dehradun, Bageshwar, Haridwar districts of Uttarakhand and Lakhimpur Kheri, Aligarh districts of neighboring state Uttar Pradesh.