Nagaland Civilian Killing: Government of India expresses deep regret, forces fired in self-defence: Amit Shah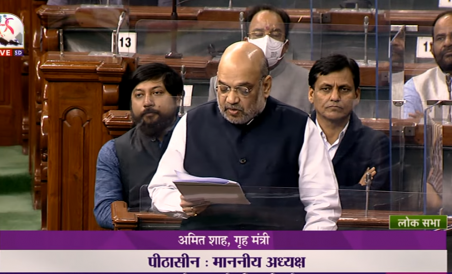 New Delhi, 6/12: Home Minister Amit Shah gave a statement in the Lok Sabha on Monday on the firing incident in Nagaland. The Home Minister expressed his deepest condolences to the bereaved families on behalf of the Central Government expressing regret over the incident. The Home Minister said, 'The army had received information about the movement of extremists in Oting, Som. On this basis, 21 commandos ambushed the suspected area. He told that a vehicle arrived there, signaled him to stop but he tried to run away. In such a situation, on suspicion of the vehicle carrying the extremists, it was fired upon.
Shah said, 'Out of the 8 people in the vehicle, 6 died. Later it was found that there was a mistake in identification. Two others who were injured were taken to the nearest health center by the army. On receiving the news, the local villagers surrounded the army unit, torched two vehicles and attacked them. Were injured.' He said, 'Security forces had to resort to firing for self-defense and to disperse the crowd. Due to this 7 more civilians died, some others were injured. Shah said that the local administration-police tried to normalize the situation.
In the Lok Sabha, Home Minister Amit Shah said, 'The current situation is tense but under control. On December 5, the DGP and commissioner of Nagaland visited the spot. Keeping the seriousness of the FIR registered, the investigation has been handed over to the State Crime Police Station.
The Home Minister then told about Sunday's incident that after the incident, on the evening of December 5, an agitated mob of about 250 people ransacked the company operating base of the Assam Rifles in Mon town and set the building on fire. The Assam Rifles had to open fire to disperse the crowd. Another civilian died due to this. Amit Shah said, 'Additional forces have been deployed to avoid any further incident in the affected area. A press statement has been issued by the Army's 3 Corps Headquarters where it expresses its regret over the unfortunate death of innocent civilians.