Bhubaneswar, 10/1 (AO Bureau): According to the statement released by Odisha Chief Minister Naveen Patnaik possessed assets over worth more than  64 crores. His possession includes all the movable and immovable properties.
As per the statement, CM Naveen has immovable property including bank deposits and jewelleries worth Rs 13404502 (approx.). It includes jewelleries of Rs 289587, and an Ambassador car (1980 model) worth Rs 8905.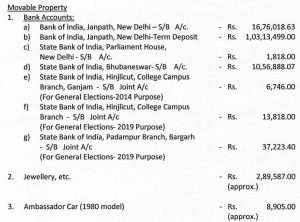 Naveen Patnaik owns immovable properties (all inherited) worth Rs 636415261. Naveen has repaid the loan of worth 15lakh to his sister Geeta Mehta.