From getting hat-trick to getting hammered for six sixes in a over, Unforgettable night for Akila Dhananjay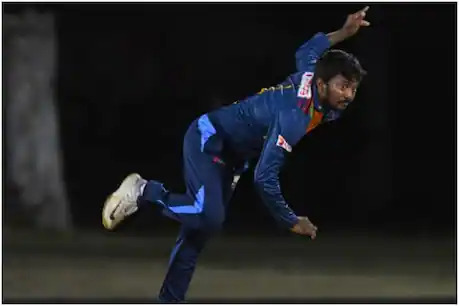 Antigua, 4/3 (AO Bureau)In the first T20 match between West Indies and Sri Lanka in Antigua, the Caribbean team won by four wickets thanks to stormy innings by Kieran Pollard. The match will also be remembered for Sri Lankan bowler Akila Dhananjay, who took a brilliant hat-trick in the second over and conceded 36 runs in the third over. West Indies captain Kieran Pollard has become the third player in international cricket to hit six sixes in an over. Yuvraj Singh and Herschelle Gibbs have done this feat before them. Yuvraj hit six sixes off Stuart Broad's ball against England in the T20 World Cup 2007, while Gibbs scored 36 runs in one-day World Cup 2007 against the Netherlands in Van der Bunga's 6 sixes in 6 consecutive balls.
Great hat-trick taken before six sixes
In this match, Sri Lanka batting first scored 131 runs at the loss of 9 wickets and set a target of 132 runs to win in front of the West Indies. West Indies openers Lindl Simmons and Evin Lewis got off to a brisk start. Both added 52 runs in 3.2 overs for the first wicket. In the fourth over of the match, Dhananjay completed his hat-trick by dismissing Evin Lewis (28), Chris Gayle (0), and Nicholas Pooran (0) for three consecutive balls.