Congress Politics: There will be no big change in Rajasthan, Gehlot is safe, pilot can be made General Secretary!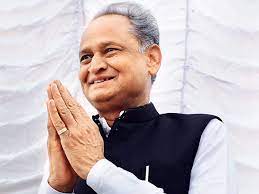 Jaipur, 20/7:Amidst all the contradictions, the Congress high command has resolved the issue of Captain Vs Sidhu going on in Punjab. After Sidhu's coronation as the state president, it is believed that now the Congress will unite and prepare for the elections. Now all eyes are on the Gehlot Vs Pilot controversy that has been going on for a long time in Rajasthan. Congress is now in the mood to resolve this political crisis soon.
According to party sources, there will be no change in the Chief Minister of Rajasthan at present. Gehlot will continue as the Chief Minister. There has to be a change in the AICC organization and under the same process, Sachin Pilot can be made the national general secretary. He can also be given the charge of Rajasthan. Apart from this, the cabinet expansion will also happen soon and they will also get a place in them, whom Sachin wants to make minister. How many of his supporters can become ministers, this number has not been decided yet.
Supporters will come in political appointments and cabinet
Apart from this, Sachin's supporters will be given proper representation in political appointments, appointments of district presidents. The party high command believes that instead of giving importance to the Pilot or Gehlot faction in the boards and corporations, the party's faithful workers will be given a place in it. For the time being, efforts can be made to unite the party with this change.
Prashant Kishor can help here too
According to sources, strategist Prashant Kishor has helped the Congress high command a lot in resolving the Punjab Captain and Sidhu issue. PK is already working as an advisor to Captain Amarinder Singh. Now in Gehlot and Pilot dispute also he can suggest any solution from his side. So that this dispute can be brought to an end.
After Punjab reconciliation, now eyes on Rajasthan
After resolving the dispute of Punjab Congress, now the full focus of Congress has come on Rajasthan. The party no longer wants to prolong the controversy. For this, an attempt is being made to find such a middle way, so that both the parties agree. In this formula, an attempt will be made to benefit both the parties.