KIIT – Alexander Waske – Altevol Tennis Academy Announced
Former German Tennis star Alexander Waske to train future tennis stars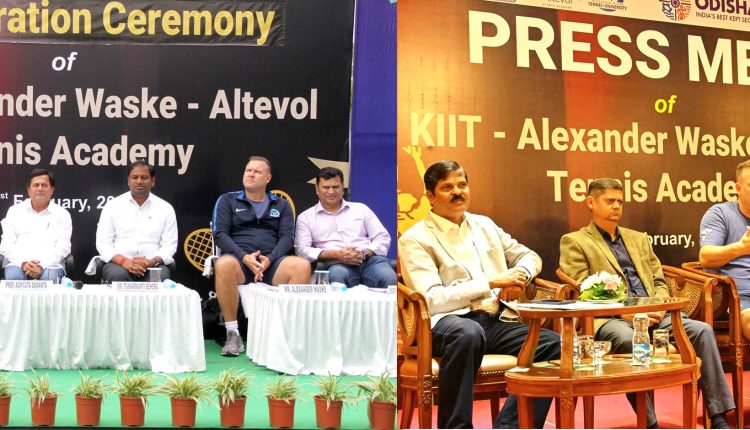 Bhubaneswar, : In a significant development towards the promotion of lawn tennis and grooming future tennis stars in Odisha, a tennis academy was inaugurated at the KIIT Deemed-to-be-University here on Wednesday. The academy has been set up in partnership with former German tennis sensation and grand slam winner Alexander Waske and Altevol Tennis Academy.
The KIIT-Alexander Waske-Altevol Tennis Academy was inaugurated by the Minister of Sports & Youth Services Department and Electronics & Information Technology Tusharkanti Behera and the Founder of KIIT and KISS Dr Achyuta Samanta in the presence of Commissioner cum Secretary, Sports & Youth Services Department R. Vineel Krishna, Alexander Waske, Founder of Altevol Sports Academy Chirag Patel and others.
Dr Samanta also expressed his gratitude to Waske who is considered one of the best tennis coaches in the world. The Founder said that he was touched by Waske who could see the potential of KIIT and KISS students staying thousands of miles away in Germany

At a press conference in the afternoon, Waske said "there are many talented budding tennis players in Odisha and other states. However, this venture will help a lot in creating more players to reach to Grand Slam level as it will help boys and girls with genuine interest in lawn tennis, especially from Odisha, with less cost. "This academy will also train boys and girls from outside, other than KIIT and KISS. As there are many students studying at KIIT University from over 65 nations, it will help to groom talented students during the first phase," said Director General Sports KIIT-KISS Dr Gaganendu Dash. While during the second phase training of students from various schools and universities of Odisha with high-performance training regimen is on the agenda, during the third phase tennis players would be inducted for high-performance training meant to groom talented tennis players and would make them national and international level tennis stars. "There will be 15 coaches of International level, physio, and trainers. From time to time Waske will come to Odisha to directly train the students and also through virtual mode," said Dash, adding "In the future days there would be more and more tennis stars from KISS and KIIT."It can be mentioned here that Alexander Waske has been a top ATP-ranked singles and doubles player from Germany and has competed at the highest level including Grand Slams. Waske also added that the sports culture of KIIT University has helped groom young tennis players.
 This new institute will build a bridge between KIIT University, Altevol Ahmedabad and Alexander Waske Tennis University in Germany in order to help tennis talents do well in national and international tournaments from Odisha.