JP Nadda, along with BJP general secretaries, arrived to meet PM Modi, the party is preparing for the elections of 6 states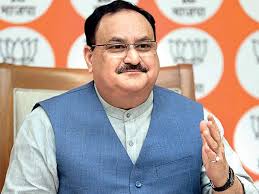 New Delhi, 6/6 (AO Bureau):Bharatiya Janata Party President JP Nadda has reached Prime Minister Narendra Modi's residence along with the party's national general secretaries. Earlier, JP Nadda held a meeting with all the general secretaries at his home. Let us tell you that BJP is busy in preparations for the upcoming elections in six states.
Let us tell you that the Bharatiya Janata Party has started preparing for the assembly elections to be held in 6 states. JP Nadda has held many important meetings in the last two days. He met with the presidents of BJP's Yuva Morcha, Kisan Morcha and Mahila Morcha. On Saturday, JP Nadda along with the presidents of the Morcha had also reached the Prime Minister's residence, where there was a long meeting with the Prime Minister, which lasted till around 10 pm.
What was the meeting about?
This meeting of the Prime Minister with all the national general secretaries has happened today for two reasons. The first is that the BJP has run the 'Service Hi Sangathan' program during the Corona period, in which this meeting was called to review. Apart from this, the second reason is that next year assembly elections are to be held in 6 states, the most important of which is Uttar Pradesh. Apart from this, Gujarat, Himachal Pradesh, Uttarakhand, Punjab and Goa are included. Out of these 6 states, there is a BJP government in five states.