Breaking: Indian women's hockey team lost semi-finals, but medal hope is still pending, can win bronze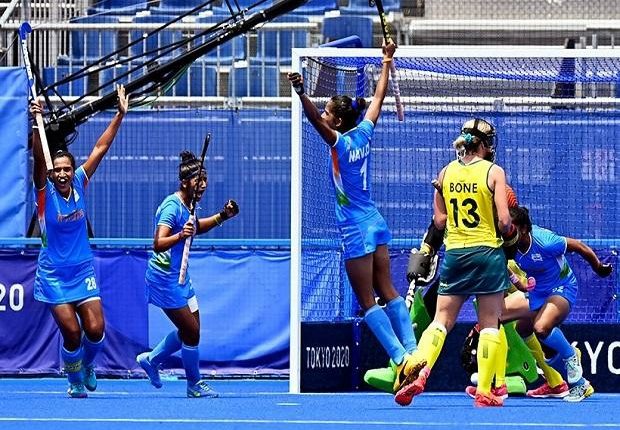 Tokyo,4/8: The dream of gold of the Indian women's hockey team, playing for the first time in the Olympic semi-finals, was shattered. Argentina's team defeated India 2-1 in the semi-finals in a very tough match. Although the women's hockey team can still win its first medal in Olympic history (Tokyo Olympics 2020). The Indian team will now face Britain for the third place and the bronze medal. In the first semi-final, Germany defeated Britain by a huge margin of 5-1.
Indian women's hockey team made a great start in the semi-final match. For India, Gurjit Kaur opened the account with a brilliant goal in the second minute itself. Gurjeet made no mistake in converting the penalty corner. In the first quarter, the Indian team completely dominated and led 1-0. However, in the second quarter, the Indian team could not maintain its momentum. Argentina came back and scored an equalizer in the 18th minute. Captain Maria Niol Bariveuvo scored for Argentina. Although India got three penalty corners in the second quarter but the team could not capitalize on them. The second quarter ended at 1-1.
In the 36th minute of the third quarter, Maria Niol Bariveuvo scored her and the team's second goal. With this, the world number two team Argentina has taken a 2-1 lead in the match. This lead ultimately proved decisive. The Indian team could not score a single goal in the third and fourth quarters.
The women's hockey team reached the semi-finals of the Olympics for the first time. The Indian team finished fourth in the 1980 Moscow Olympics. At the same time, the Indian men's hockey team also has a chance to win a bronze medal. The men's hockey team will take on Germany for the third place on Thursday (August 5). The men's hockey team won its last medal in the 1980 Moscow Olympics in the form of a gold medal.