Tokyo Olympics: Ravi Dahiya in final, won the bout even after trailing 7 points, will now play for gold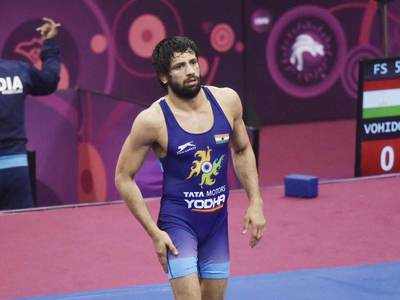 Tokyo,4/7:Indian wrestler Ravi Dahiya has made a strong performance in the Tokyo Olympics and has made it to the finals. He defeated Sanayev Nurislam of Kazakhstan in the semi-final of 57 kg category. The fourth-seeded Indian was trailing 2-9 but Dahiya made a comeback, attacking his opponent on both legs and winning from his fall. Dahiya had a 2-1 lead after the first round but Sanayev attacked his left foot and forced him to turn three times to take six points. It seemed that Dahiya was heading towards defeat but without losing his composure, he overturned in a minute. With this, Ravi Dahiya has ensured the fourth medal for the country in the Tokyo Olympics. Now they will go into the final with the intention of winning gold.
KD Jadhav was the first wrestler to get India a medal in wrestling, winning a bronze medal in the 1952 Helsinki Olympics. After him, Sushil Kumar (2008, 2012), Yogeshwar Dutt (2012) and Sakshi Malik (2016) have won medals in wrestling for India. Sushil Kumar won silver medal in 2012 London Olympics. While Sakshi and Yogeshwar have bronze medals.
Dahiya's dominance was shown in the first two matches
Ravi Dahiya won both the matches on the basis of technical efficiency. Dahiya defeated Bulgaria's Georgi Valentinov Vengelov 13-2 in the first round after beating Colombia's Tigueros Urbano Oscar Edwardo 14. defeated by 4. The Indian wrestler, seeded fourth, repeatedly attacked the opponent on his right leg in the match against Tigueros Urbano and dominated the match after losing points from a 'take-down' in the first period.
Defending Asian champion Dahiya then registered a 13-2 win with one minute and 10 seconds left in the match. The Indian wrestler showed his technical strength in the second period, collecting points from five take-downs.
Also read: Deepak Poonia loses in semi-finals, but medal hopes remain
Anshu Malik lost
Wherein 19-year-old Anshu Malik lost 2-8 to European champion Irina Kurachikina of Belarus in the women's 57kg first match. Asian champion Anshu made a brilliant comeback to score two push-out points against her rival from Belarus despite going 0-4 down. She grabbed Kurachikina's right leg but could not complete the move. She lost two points on counter attack but kept fighting. The experience of a European wrestler eventually overshadowed his enthusiasm.