Development of world-class industrial infrastructure is one of the major agenda of Government " : Minister Sri Deb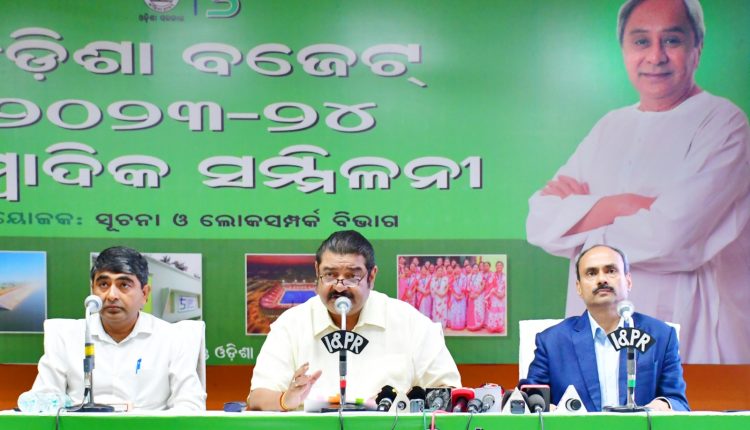 Bhubaneswar : Industries Department has been provided with budget of Rs. 710.20 Cr. in FY 2023-24 to create world class Land Bank, Industrial & enabling Infrastructure and Investment facilitation in the State. A large amount of funds of Rs. 556 Cr. has been allocated for development of Industry ready infrastructure, which is more than 25% higher than previous year budget allocated in FY 2022-23 and 240% higher than budget allocated in FY 2021-22, said Sri Pratap Keshari Deb, Minister Industries.
Addressing the media at Geeta Gobind Sadan today, on the highlights of Budget 2023-24 Minister Sri Deb said that development of world-class industrial infrastructure is one of the major agenda of Government in which IDCO has already developed various sector specific Industrial Parks such as Plastic Park at Paradeep, Aluminium Park at Angul, Seafood Park at Deras and Electronics Park at Bhubaneswar. All these projects are already completed and functional. With State of Art Infrastructure in Place and having attractive land price, these projects are attracting investors to come and invest in Odisha. In the Seafood Park & Plastic Park, more than 50% leasable area has already been allotted to units. In the EMC Park, RBI has started construction of Hyper data centre and other similar projects are in pipeline.
For Plug n Play Infrastructure, IDCO has completed modern IT Incubation Centre cum OHUB spreading over 3.57 Acres of land and total built up area of 4 lakhs sq.ft. with plug n play facility to help the start-up companies with necessary guidance, tech support, infrastructure, access to investors, networking and facilitating a host of other resources that may be required for the start – up to survive and scale. Similarly, IDCO has set up commercial space at strategic locations at Dhenkanal Tower (close to NH 55) of built up area 1.5 lakhs and Jharsuguda Tower (close to SH 10 along Biju Expressway) of built up area 2.5 lakhs.
Highlighting on some new initiatives, Minister Sri Deb said that in the coming years, Industries Dept. has a target for construction of worker's hostel at 13 locations having combined capacity of 26,000 in multiple locations across the State. Worker's Hostel will be a value proposition as a basic infrastructure for MSME/ large units coming to set up their units inside Government developed Industrial Estates. Similarly, Government has target to incur expenditure about Rs. 200 Cr. for land bank for procurement of Govt. and Private Land, making ready for attracting investors.
Government has identified more than 5,000 acres of land along the Biju expressway for development of more than 25 clusters starting from Rourkela (Sundergarh) to Motu (Malkangiri) of 10 districts. Government has made special provision of incentives for the units those will set up units along Biju expressway in notified Industrial areas. Government has also taken steps for development of large area industrial estates from surrendered land by Central PSU or identifying new land parcel for industry ready infrastructure from day 0. Such facilities will come up at Neulopoi (Dhenkanal), Naraj (Cuttack), Gajamara & Kamakhyanagar in Dhenkanal District.
Sri Hemant Sharma , Principal Secretary to Industries Department said that Government has set a target for construction of commercial built up space for Industries as enabling infrastructure at 8 locations in first phase (Khurda, Angul, Sambalpur, Jajpur, Paradeep, Balasore, Berhampur & Barbil) and further 3 locations (Rourkela, Khurda and Kalahandi) with a  combined capacity of more than 50 lakhs sq.ft. Odisha has been significant industrial development over the last two decades. The increase in investment to the state necessitates higher emphasis and facilitation for quick development of linked infrastructure facilities at a district level. In view of this, the Government has already set up District Investment Promotion Agency (DIPA) in 15 districts, further, it will be expanded phase wise to balance 15 districts in the upcoming financial year FY 2023-24.
The focus of Industries Dept. from the budget will be creation of quality infrastructure for promoting orderly and sustainable industrial growth.
Sri Bhupendra Singh Poonia, MD, IPICOL & MD, IDCO along with senior officials from Industries Department were present in the press meet. Sri Gurbeer Singh, Joint Director, I&PR coordinated the Press Conference.