State's First Digital Reading Corner for Visually ChallengedGirl Students inaugurated at Rama Devi Women's University
Mo College Abhijan ignites the enthusiasm in the life of every student- Mo College Chairperson Shri Akash Dasnayak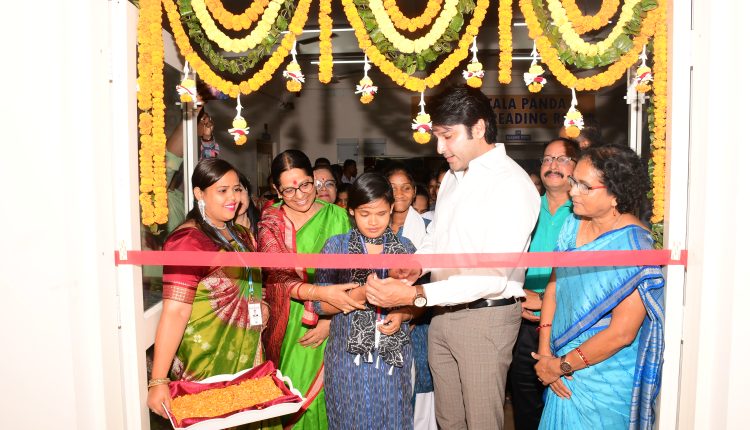 Bhubaneswar :MoCollege Abhijan is a wonderful platform where Alumni's donate to their Alma Mater for theiroverall progress. In this case Alumni and Registrar Smt. Shyamali Mohapatra of Rama Devi Women's University donated Rupees One Lakh on behalf of her mother Smt.Binodini Mohapatra to Mo College Abhijan Parichalana Sangathan for the construction of the E-Reading corner and MCAPS has released Rupees 2 lakh amount  and in total a sum of Rupees 3 lakh has been granted to the University for the purpose of E-Reading Construction Purpose.
Mo College Abhijan Chairperson Shri Akash Dasnayakinaugurated anE-Reading room for visually challenged girl students titled `Binodini Mohapatra reading corner', on Tuesday afternoon at RamaDevi Women's University,Bhubaneswar. VC Prof. Aparajita Chowdhury welcomed the Chief Guest Shri Akash Dasnayak. It may be noted that earlier
Addressing the girl students Shri Dasnayak said, " I welcome all present over here along with We 4 You personnel. Mo College Abhijan is dedicated to making every college and university across the state progress holistically. In fact, Mo College ignites the enthusiasm in the life of every student. I personally thank Registrar Smt. Shyamali Mohapatra who has donated a handsome amount for the construction of this E-Reading corner on behalf of her mother Smt. Binodini Mohapatra. This will assist the students to get an excellent education. If one has confidence and they are focused on their goals then nothing is impossible to achieve in this world. The Reading corner is equipped with advanced jaws software through which students can access the audiobooks."
A visually challenged student of +3 Final year Political Science department JhilliPradhan said "It's a great day that we received a digital library all thanks to our beloved VC Prof. Aparajita Chowdhury, our faculties, and MoCollege Abhijan. It was our wish to study with the best of the facility and today our dreams has come true.''VC Prof. Aparajita Chowdhury addressed the students and said," Our University has Computer literacy for each student and for these visually challenged students we are also planning to update all our facilities at the E-learning centre where special software will be added and special training for these students will be available."
Registrar Smt.Shyamali Mohapatrasaid," My mother Smt.Binodini Mohapatra has always encouraged me and my siblings to progress in life like a flowing river. I am glad that today as an Alumni of this University I donatedto theReading corner which is a reality today all thanks to the outstanding efforts of Mo College Abhijan."
Mo College Coordinator Dr. Snehalata Das offered a vote of thanks at the conclusion of the program. She proposed a vote of thanks to the Chief Guest of the event Mo College Abhijan Chairperson Shri Akash Dasnayak, VC Prof. Aparajita Chowdhury, Registrar Smt.Shyamali Mohapatra, Prof. ChandiCharanRath(Chairman P.G Council),Shri Abhay Mahanta of We4You,Prof,ChandrasekharLenka,PIC, LibraryLibrary-In-Charge Nasima Begum. Around 100 Visually Challenged Girl Students were present during the event.