NuagarhTeam wins the first edition of Udaan Inter Village Cricket Premier League organised by AM/NS India
- Ground breaking performed for mini stadium development at Paradeepgarh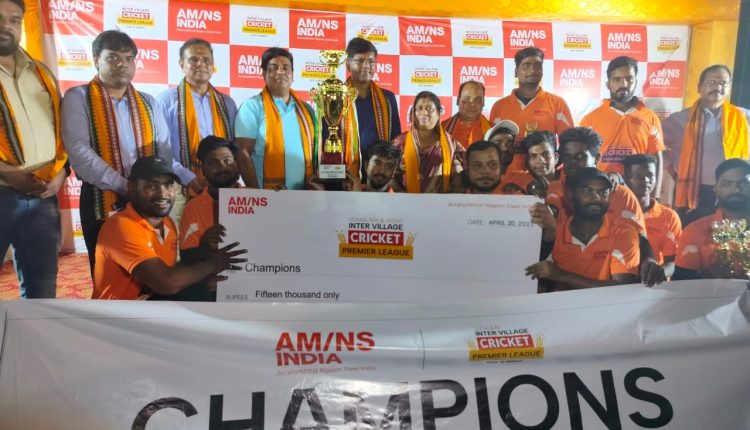 Paradeep : In a closely fought finals today, NuagarhTeam emerged winner of the first edition of Udaan Inter Village Cricket Premier League organised by the leading steel manufacturer ArcelorMittal Nippon Steel India (AM/NS India). In a 12-12 overs final match played at the Paradeepgarhvillage playground,NuagarhTeam beat ParadeepgarhTeam by25 runs. Batting first NuagarhTeam scored 115 runs for 9 Wickets in the stipulated 12 overs while ParadeepgarhTeam scored 90runs with the loss of 9 wickets in 12 overs.Cash prize of Rs 15,000 and trophy was presented to the winning Nuagarh Team while the Runner-up Team received acash prize of Rs 10,000 along with the trophy. Suren Sahoo ofNuagarhteam was adjudged Man of the Series, Samrat Nayak of Nuagarh team bagged the awards for both maximum number of sixes and for highest runs scoredin the tournament and Kumar Bunty of Paradeepgarhteam was awarded for being the highest wicket taker of the tournament.
Earlier in the semi final matches played on April 19, 2023, Paradeepgarh beat BaldiawhileNuagarh beat Singitali to reach the finals.
With an objective to inculcate sportsmanship and a culture of sports among the youth of the nearby communities, AM/NS India under its CSR initiative Udaan hadorganised a day & night inter village cricket tournament at Paradeepgarh in Jagatsinghpur district which started on April 18, 2023. Ten teams from ten villages including Nuagarh, Baldia, Handia, Mushadia, Singitali, Paradeepgarh, Chakradharpur, Bhutmundei, Pipal and Phulbelarihad participated in the tournament.
In the post-match award ceremony, Sri Suresha G, Executive Director, Odisha Operations, AM/NS India, Sarpanch of Paradeepgarh Smt. Sasmita Behera, Dr Vikas Yadvendu, Head-CSR, AM/NS India,gave away the awards to the winners. Present on the occasion weresenior officials of the company, members of the community and members of all the playing teams.
On the occasion, ground-breaking ceremony for development of a mini stadium at Paradeepgarhvillage playground was performed. The puja was performed by the Sarpanch of Paradeepgarh Smt.Sasmita Behera. The mini stadium will be developed by ArcelorMittal Nippon Steel India as part of its CSR initiative.
On the occasion Sri Suresha G, Executive Director, Odisha Operations, AM/NS India said, "I congratulate players of all team for taking part in this tournament. Today,we preformed ground-breakingceremony for the construction of mini stadiumat Pardeepgarh, which will be one of the best stadiums in Paradeep. We will create many more opportunities for local youth and continue our peripherial development activities for betterment of local people."