IPL 2021: Shreyas Iyer breaks silence on Delhi Capitals captaincy, gives big statement on Rishabh Pant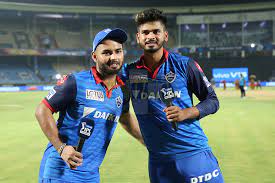 New Delhi, 23/9:Delhi Capitals' reliable batsman Shreyas Iyer has shown a big heart. Iyer said that he would love to captain Delhi in the Indian Premier League (IPL 2021) but respect the team management's decision to retain Rishabh Pant as the captain till the end of the 2021 season. Iyer led Delhi to the final in IPL 2020 but missed the first leg of the tournament this year due to a shoulder injury. After this the team management appointed Pant as the captain.
The 26-year-old Iyer made a comeback when the IPL, which was postponed in May due to Kovid-19, made a comeback but Delhi kept Pant as the captain. Iyer, who played an aggressive innings of 47 not out in the win against Sunrisers Hyderabad, said that he understands the policy of the team and has no complaints. Delhi won this match by eight wickets. Iyer said in a post-match press conference, "When I was handed the captaincy, I was in a different state of mind and my decision making ability and tolerance level was very good and I have benefited from it in the last two years." met."
He said, "It is the decision of the franchise and I respect whatever decision they have taken. Rishabh has been leading the team well since the start of the season and felt that he should continue as captain till the end of the season and I fully respect that decision. I feel happy because in this way his game shines.